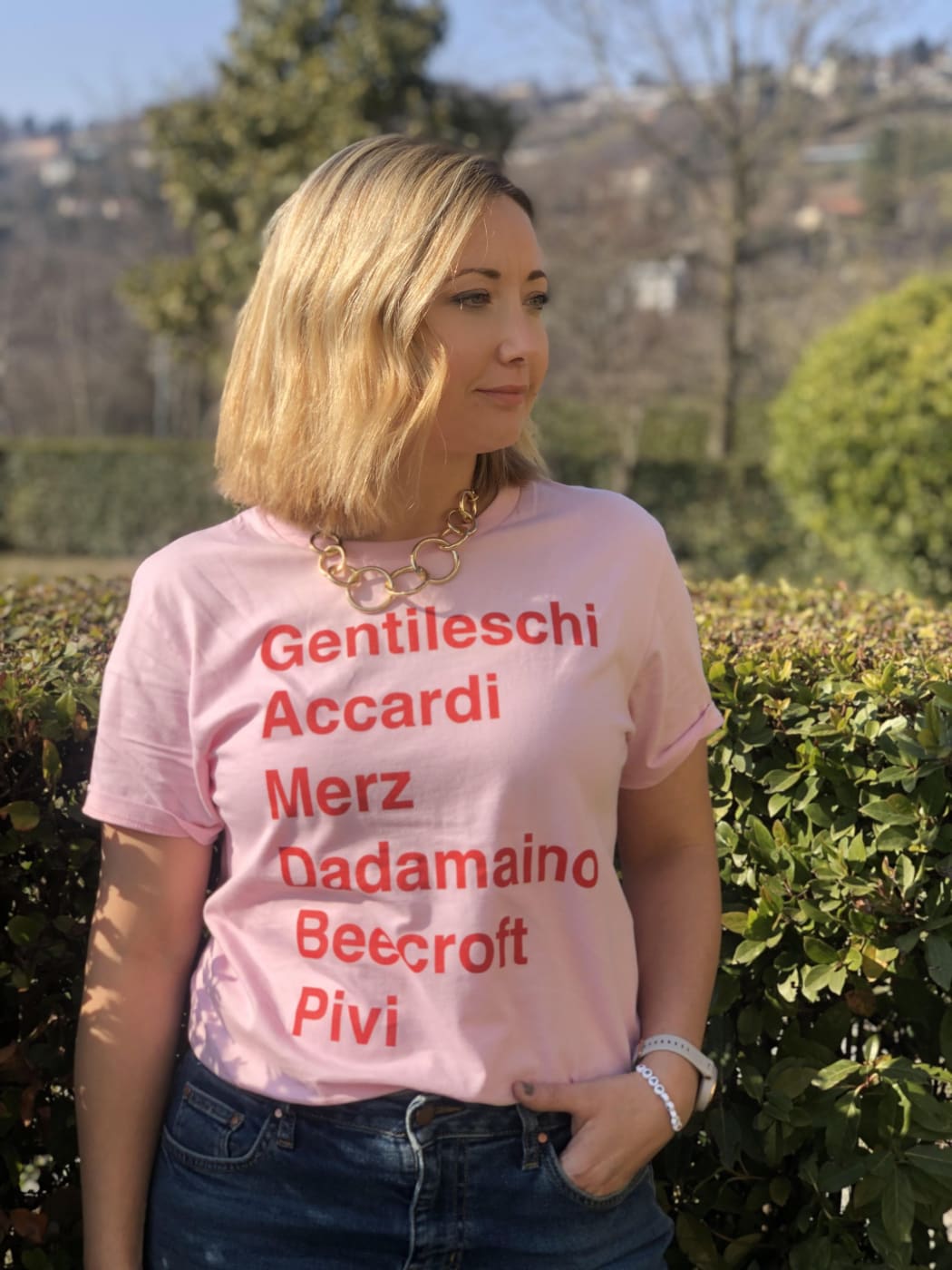 Artistellar Gallery met Daniela Duppen, The Blonde Art Dealer, on a sunny November day. As the cold started tightening its grip on the British capital, Daniela sipped hot coffee, wearing cozy knitwear and the unmissable customized t-shirt stemming from the collaboration with Art Girl Rising. The t-shirt names Italian women artists overlooked in the past and others from our times: Gentileschi, Accardi, Merz, Dadamaino, Beecroft, and Pivi. The project is the emblem of Daniela's activism in the arts.
Daniela moved to London - where she currently resides - in 2008 after gaining experience in the arts in Milan and Brussels. Although 2008 represented a year of global recession, she got her first London job in a gallery, a head-start as she could experience all sides of business hands-on. Within that first year, she witnessed the dawn of her ongoing collecting journey. Besides being an avid collector, Daniela works in the arts as a private sales advisor for a big marketplace platform, her ever-glowing source of inspiration.
Frieze London 2022, artwork by Beverly Fishman
The Blonde Art Dealer is the name of her art journal turned into a blog and a colorful Instagram account. A collection of shows, artists, artworks, and people alike that Daniela admires and cherishes. The blog is an outlet for her fascination with the intersection between art, economy, and society.
When she started The Blonde Art Dealer, she desired to withdraw the stigma around women in the arts, so the logo was born. The backside blonde figure with the name in pink challenges prejudices and misconceptions. On recalling how this started, Daniela tells Artistellar how artist Michele Pred first called her attention to focus more on women, bringing their narrative to the forefront of her collection, blog, and podcast Secrets of the Art Business. Over the last two years, The Blonde Art Dealer has collected mainly women artists like Bridget Riley, Sola Olulode, Camilla Armstrong, and Ethel Coppieters.
Driven by a passion for African, abstract, and figurative art, she defines herself as a diverse and open-minded collector. Thanks to her academic background in arts and economics, she is keen on expanding her interest and horizons, however attentive to trajectories in the market. Her parents, collectors, always encouraged her to venture out into the art world. She only buys what she loves, and with a set budget from the very start, rather than buying more, she always preferred buying better, investing in remarkable artists and artworks that would stand the test of time. She keeps an eye on whatever speaks to her; she looks to click with the works. To The Blonde Art Dealer, collecting is an introspective journey made of a few essential elements, often linked to human relationships.
"Looking backward, I realize I owe much of my collecting to friends and friends of a friend. It always has to do with personal relationships. It is a lot about supporting the people I love.
The same happens with artists I like. I champion them early in their career when they need some reliability and the right confidence to push forward their oeuvre."
From Artistellar's last show Unfilled Blues, Daniela collected Ethel Coppieters' acrylic on canvas "The One Who Listen" because of its dainty colors and blurred outlines; for its strong visual message. The decision was quick; 20 minutes after speaking with Artistellar's founder Adele Smejkal she settled. She fell in love with the work.
Artwork by Ethel Coppieters "The one who listens'" 2022, acrylic on canvas, 24 x 30 cm
Our conversation with Daniela prompted art's unparalleled potential to connect people and interests, be that through exhibitions, art collecting, or life choices. It was refreshing to see how recent "feminist" contributions changed - and still do - the attention spectrum among collectors, and Artistellar Gallery is beyond proud to participate in making a difference.
Words by Bianca Spaggiari